Your idyllic getaway in Mallorca
ADULT-ONLY RURAL HOTEL
Sa Pedrissa was originally an old Mallorcan manor built in the 17th century. Following a complete renovation, it opened as a rural hotel for adults only. Its privileged location offers one of the island's most breathtaking views of the Serra de Tramuntana and the Mediterranean Sea.
The Sa Pedrissa experience is all about respecting nature. Meandering paths through pretty gardens lead to secluded resting places and stunning viewpoints. A wonderful pool offers stunning views over the sea. A large, sea view terrace is an ideal spot for lounging on comfy seating with friends, while sipping a cocktail. The bedrooms are scattered across the property bestowing them extra privacy, while the enchanting restaurant and indoor lounge within the old house and olive press are sure to charm you. Whenever your eyes look out to the horizon you will see mountains and sea.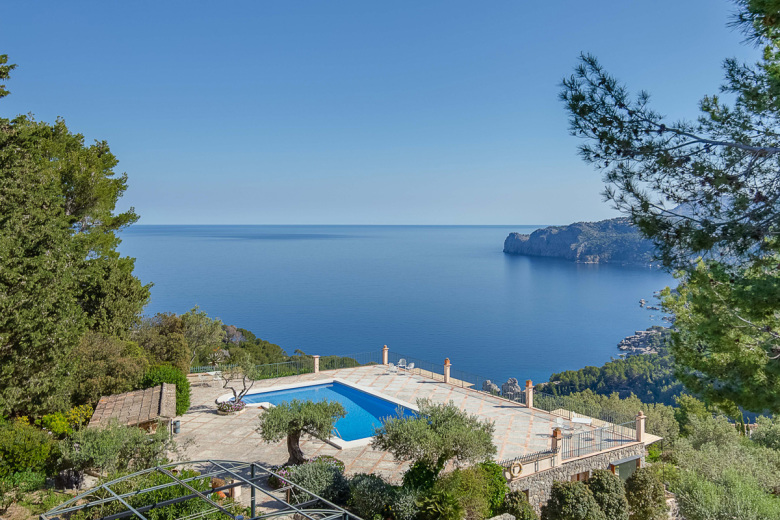 The experience
KM0
At Sa Pedrissa, we strive to capture the essence of Mallorca, respecting the environment and local traditions in everything we do. Maybe, on one of your strolls, you will see the gardeners tending our herb and vegetable garden, or spot the chef collecting fresh produce for the day's menu, tailored to what is in season. We use local suppliers and products and keep everything as sustainable as possible.

Adults only, everything designed for you
At Sa Pedrissa we want you to be happy, to relax, and to discover this hidden part of the island. Your wellbeing is our main concern and our motto is to provide first-class service. The adults-only category (children must be over 12 years of age) is for a reason. It is in response to guests wishing to have tranquility and to learn about local culture. The small property does not offer suitable surroundings or activities for children. Adults will therefore discover peace and exceptional service.

Deià, a corner to discover
During your stay at Sa Pedrissa, we recommend you dedicate at least one day to discover the enchanting village of Deià, home to several artists, where, in addition to meandering through its cobbled streets, you can also visit the Robert Graves' Museum, and the market at the Son Marroig estate every Thursday.